Showcasing exotics at Vancouver's Luxury Supercar Weekend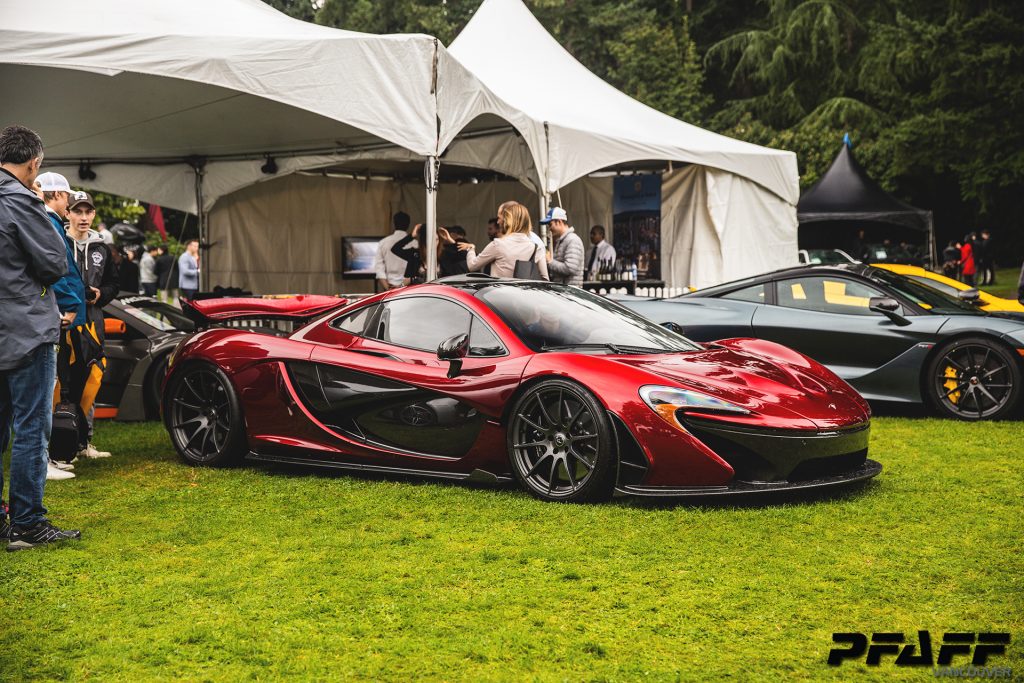 Vancouver's Luxury and Supercar weekend, is a brilliant bit of counter-programming. Canada's auto show circuit runs from January to April, from Montreal to Toronto to Vancouver and points between, the primary content being mainstream mass-market offerings, with a dash of exotic car content to liven the mix. LSW, as we've come to know it, sits at the opposite side of the driving season, a September festival that foregrounds the exotic, vintage, and high-luxury cars that will typically get garaged for the winter.
Now in its eighth year, LSW, whose main event is a two-day car show held in Vancouver's spectacular VanDusen Botanical Gardens, is a different kind of car show altogether. Mainstream auto shows trumpet how many visitors they get through the doors; LSW actually limits the number of ticket sales to create the relaxed, garden-party atmosphere the organizers are after. And instead of giant manufacturer pavilions with acres of new cars, the gardens are punctuated by hospitality tents, around which are parked the kind of cars you're not likely to see at any other auto show.
For high-end brands and the dealers, like Pfaff and its McLaren Vancouver/Pfaff Leasing operation, that represent them, LSW marks an important point on the calendar. While it doesn't attract big numbers like a traditional auto show, LSW attracts exactly the right kind of audience – the $125 VIP ticket price means that every guest walking the grounds has already demonstrated a propensity to spend an above-average portion of their income on their passion for automobiles. The weekend has proven to be a solid generator of sales, and a way to create buzz for the dealership that lasts through the rest of the year.
Pfaff and
McLaren Vancouver
have participated in LSW for the last number of years, increasing our presence every year as the McLaren model line has expanded, and since Pfaff's high-end brand offering has expanded to include
Pagani
,
Singer Vehicle Design
, and
BAC Mono
. 2017's display at LSW was our biggest ever, with a spread of McLarens on one side featuring the all-new 720S Super Series car and the latest Sports Series model, the 570S Spider, resplendent in Sicilian Yellow. The 570S Spider in particular, garnered a tremendous amount of attention, with its power-folding hardtop and its new, colour-matched sidewall stripes on the
Pirelli
P Zero tires.
Pfaff customer and racer Pieter Baljet, who raced to a second-place finish in the Platinum Masters class of the 2017 Porsche GT3 Cup Challenge, also provided for display his spectacular 650S GT3 race car, a fitting centrepiece for the McLaren tent.
The blue-on-red 911 restored by Singer, called the Pfaff Commission, features Singer's most aggressive technical specification, with a 4.0-litre air-cooled flat-six hand built by Ed Pink Racing Engines, a six-speed manual gearbox, Ohlins suspension, and limited-slip differential.
It's topped off by unique styling touches that include a hand-woven interior bringing together leather and suede; a balsa-wood shift knob in tribute to the legendary Porsche 917, and a right-side-view mirror delete. Traditional Singer touches include widened, vintage-tribute bodywork executed flawlessly in carbon-fibre, three-piece Fuchs-style wheels, adjustable Recaro buckets, and a tachometer that goes to 11.
The specs only tell half the story of the Huayra Roadster, though. It is, from the exposed, blue-tinted carbon-fibre bodywork through to its leather-and-carbon-on-everything interior and its 80,000-euro's worth of titanium, Pagani-logo-engraved custom bolts, a true automotive work of art, one of those few cars, like the 911 by Singer and the BAC Mono, that gets better, more interesting, and more impressive, the closer you look. It is also so clearly an expression of Horacio Pagain's singular vision, where even the shape of the side-view mirrors has been finessed by his artist's mind: they're designed to mimic his wife's eyes.
The Shangri-La hotel in downtown Vancouver was the location for the Huayra Roadster preview on Wednesday, the car parked in the plaza outside of the hotel while guests were able to contemplate it from a glass room three floors up before exploring it in closer detail, with an introduction from Pagani guests William Collick (head of Pagani North America) and Christopher Pagani, son of Horacio.
On Thursday night, the fun shifted to the newly-expanded McLaren Vancouver dealership, for the Canadian premiere of the 570S Spider, which had arrived directly from its American debut at Pebble Beach. Pfaff brand manager Chris Green and dealership general manager Morris Lubinich unveiled the Spider to great interest from the intimate crowd, demonstrating its power-operated roof and answering questions from the audience. Throughout the evening, a more casual garage party atmosphere in the dealership's storage area and pre-owned showroom showcased the 720S, Singer-restored 911, the BAC Mono, and the Huayra Roadster.
The 720S was the star of Friday night's official kick-off to the LSW weekend, parked in front of Inform Interiors in Gastown, where owners displaying their vehicles for the weekend, event sponsors, partners, suppliers, and VIPs gathered for the biggest social event on the west-coastcar calendar. Tucked into the furniture boutique's discreet and beautifully-finished garage were the 570 Spider, Huayra Roadster, and 911 by Singer, creating an intimate lounge experience of their own.